Hello
Building teams and delivering technology-rich engaging solutions across healthcare, sciences, humanities, and the arts for the past 20+ years.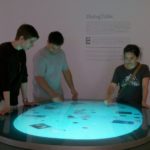 Experience
Design
Distilled complex customer needs into 100+ end-to-end experiences and products with cross-functional teams.
Technological
Innovation
Responsibly crafted new technologies and services across industries including several national firsts.
Team
Building
Provided opportunities and support for skill building while celebrating ownership and diverse, cross-disciplinary teams.
Active
Practitioner
Accomplished designer, developer, and instructor with the skill and language needed to drive successful projects.
Philosophy
I'm a problem-solver at heart which is why I know that true change needs to come from a team. With shared vision, keen customer focus, intentional iteration, and creative people – there are no locked doors.
Sample Projects
A subset of various projects I had the privilege to work on. Click on each for a brief description.
Complex Needs ≠ Complex Experience
Innovation that creates lasting change is more than throwing the latest technology at a problem; hoping it sticks. It's an iterative, creative process that can be developed and used to translate complex requirements into simple, elegant experiences supported by the right tech.
Empowering Others
Working with scientists, doctors, artists, and humanists across the spectrum of age and ability taught me good ideas can come from anywhere. It takes a constant investment in our future selves for a project to be successful. As a life learner, I work with others develop skills that encourage ownership and becoming leaders.
Concept to Completion
With roughly 150 completed projects behind me, they all started with a "crazy idea." Can we virtually dissect a cadaver so students can go on a treasure hunt through the body while learning anatomy? Can we create a biomarker for pain and allow a clinician to see the pain in a patient's brain in real-time? Can we accurately capture, preserve, and share cultural movements from dying traditions? Yes, we can. Now let's find the ingredients to get there.
Skills
Strategic Planning | Project/Task Management | UI/UX Design & Testing | XR Experience Design and Development | 3D Modeling & Animation | Digital Imaging | Game Design | Visualization | Visual Effects & Motion Graphics | Web/Mobile Programming (Web, Mobile, PC) | Cloud System Design | Audio Design & Production | 3D Scanning | Motion Capture | Regulatory Compliance